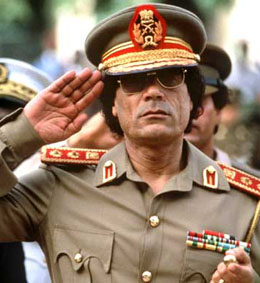 Gaddafi warns developing world leaders of similar fate
REUTERS
Reuters US Online Report World News
Oct 06, 2011 12:49 EDT
BEIRUT (Reuters) – Deposed leader Muammar Gaddafi said leaders of the developing world who recognized Libya's National Transitional Council(NTC) that ousted him with the aid of NATO firepower would suffer a similar fate.
"If the power of (international) fleets give legitimacy, then let the rulers in the Third World be ready," he said in an apparent reference to NATO's military support for NTC forces.
He made the comments in an audio recording obtained by Reuters on Thursday from Syria-based Arrai television. It was not clear when the message was recorded.
"To those who recognize this council, be ready for the creation of transitional councils imposed by the power of fleets to replace you one by one from now on," he said.
Gaddafi also called on Libyans to take to the streets, saying conditions in Libya were "unbearable."
[avantlink_ad merchant="My Self Defense Store" title="Branded 300×250″][/avantlink_ad]
"I urge all Libyan people to go out and march in their millions in all the squares, in all the cities and villages and oases," Gaddafi said.
"Go peacefully … be courageous, rise up, go to the streets, raise our green flags to the skies," he added.
Gaddafi has been on the run since NTC forces captured the Libyan capital Tripoli on August 23. Despite several leads as to his whereabouts, he has eluded capture, along with two prominent sons.
The NTC has mounted a manhunt to find Gaddafi that is focusing on the Sahara desert near the borders with Niger and Algeria.
Gaddafi said the NTC was illegitimate. "How did it get its legitimacy? Did the Libyan people elect them? Did the Libyan people appoint them?"
Arrai TV broadcast Gaddafi's last speech on September 20.
(Reporting by Lutfi abu Oun and Oliver Holmes; Editing by Janet Lawrence)
Source: Reuters US Online Report World News
via Featured News and Video – Source One News, Source1news.com.
The statements, views and opinions expressed in this column are solely those of the author and do not necessarily represent those of Eye One News, Affiliates Or Advertisers.