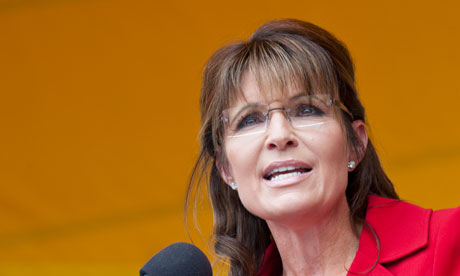 Allegations that Sarah Palin took drugs have emerged in a new biography. Photograph: Rick Friedman/Corbis
A highly anticipated biography of Sarah Palin, the Tea Party politician and former Republican vice presidential candidate, alleges the former Republican vice presidential candidate used cocaine and marijuana, and had a long affair with her husband's business partner.
The Rogue: Searching for the Real Sarah Palin by the respected if controversial author, Joe McGinniss, claims Palin was seen snorting cocaine off the top of a 55-gallon drum while snowmobiling with friends. It also alleges she smoked marijuana with a professor while at Mat-Su College in Alaska.
The book, scheduled for release in the US next week, quotes a Palin family friend as alleging that Palin's husband, Todd, also used cocaine and that he was "on the end of the straw plenty".
McGinniss, who made his name as the young author of a study of Richard Nixon's campaign, The Selling of the President 1968, angered Palin by moving in next door to her home in Wasilla, Alaska. Palin warned him to not to spy on her family, saying she suspected he was trying to look in her daughter's window from his property.
The book claims to substantiate allegations previously denied by Palin that she had an affair for six months in the mid-1990s with her husband's business partner. McGinniss writes that the relationship put considerable pressure on Palin's marriage.
Anticipation of the book's release has been heightened by a deal McGinniss made with Garry Trudeau, author of the Doonesbury cartoon, to include extracts in the strip read by an imaginary Fox News reporter who moved in next door to McGinniss.
Some US newspapers have declined to run the strip which includes lines claiming that "Palin isn't comfortable in the presence of dark skinned people".
Read More Via http://www.guardian.co.uk/world/2011/sep/15/sarah-palin-alleged-cocaine-marijuana-book
The statements, views and opinions expressed in this column are solely those of the author and do not necessarily represent those of Eye One News, Affiliates Or Advertisers.